Mitsubishi Mini Split Air Conditioners - Instaltion and Serivce
Ductless & Ducted Solutions
Stay Cool is a Mitsubishi Electric Certified Diamond dealer and installer. Mitsubishi heating and cooling products offer the homeowner the simplest way to heat and cool your home. Plus, their innovative simplified designs contribute to lowering your energy bills and reducing your life cycle maintenance costs.
Mitsubishi Heating
Split zoning heating systems from Mitsubishi Electric deliver unprecedented levels of comfort and efficiency. Mitsubishi heating systems give you the flexibility you need to address any residential need from spot conditioning a single room in a home to heating the entire house to heating multiple rooms independently. Split zone heating combined with state of the art running efficiency will save you money by reducing your monthly heating bill.
Mitsubishi Air Conditioning
Mitsubishi has several air conditioning system solutions from single room wall and ceiling mounted ductless AC systems to high-capacity full home ducted central air units. All Mitsubishi air conditioning systems are flexible and energy-efficient, keeping your energy bill low!
HOW IT WORKS
Watch How Our Mitsubishi Heating and Cooling Systems Work in your Home

MITSUBISHI INSTALLATION
"Our house's family room was an addition to our house. Both the heat and central air system never worked properly. George assessed the room, our current heating and cooling systems and recommend the Mitsubishi mini-split. I love that we can adjust the heat and air in this one room where we spend 90% of our time. Amazing. Thanks George!"
- The Wilsons, Cranford, NJ 07016
Mitsubishi Mini-split Installation
Flexible, Cost Effective Ductless HVAC Solutions
Stay Cool & Mitsubishi
Stay Cool AC and Heating is an authorized Mitsubishi Diamond dealer and contractor. Save money and put 25 years of AC and heating experience to work for your family.
Mitsubishi Dealer and Installer Serving North Jersey and Central Jersey
Trusted in the community for over 25 years, Stay Cool HVAC has been installing Mitsubishi cooling and heating systems throughout New Jersey. We guarantee our work, as we stand behind every heating, cooling system and central air unit we install. Below are just several of the areas we serve:
Chatham
Edison
Fanwood
Gillete
Iselin
Madison
Millburn
Rahway
Roselle
Short Hills
South Plainfield
Springfield
Sterling
Union
Watchung
Westfield
Woodbridge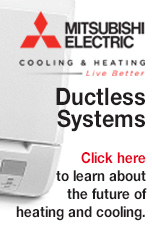 Get Started...
If you find yourself asking, "I need a Mitsubishi contractor near me," then look no further than Stay Cool. For 25 years, Stay Cool, a Mitsubishi dealer and installer has built its reputation by being reliable and affordable.
Contact us by phone at 908-272-2149 or email and put the passion, reliability and expertise of Stay Cool to work for you, keeping your house cool in the summer and warm in the winter.